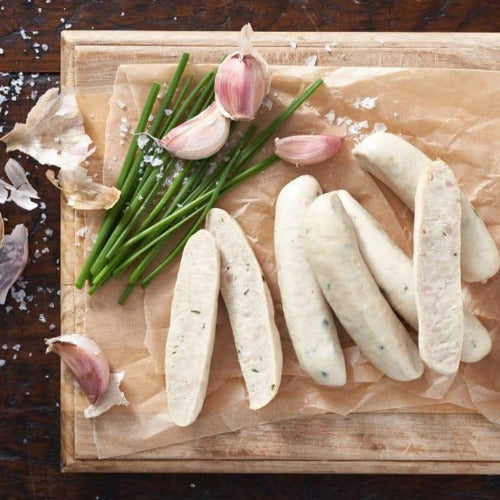 Product Description
Gluten-free sausages made using minced chicken thigh meat. Lightly spiced and filled into a natural casing before being steam-cooked to seal in its flavour and freshness. Makes BBQ's quick and ready, only a quick toss is needed to give colour and heat, which further emphasises the flavours. It's the perfect addition to any dish including pasta, in a roll or for a BBQ. This product is ready cooked however, need to be recooked. This product is made using Australia's best quality ingredients.
$19.80 / kg
Ingredients
Fresh chicken meat (88%), water, salt, spice extracts (with celery), flavour enhancers (621, 631), mineral salts (450, 451, 452), canola oil, white pepper, spices (mustard, paprika), dextrose, chives, filled in a natural casing and steam cooked. 
Product Storage + Care Instructions
Keep refrigerated <4°C. Once the seal is broken, remove the product from plastic and keep wrapped in a paper towel. Change paper towel every 3 days. Must be consumed within 1 week.

Freeze product as soon as possible after purchase. Must be frozen before used by date as shown on package. Can be frozen for a maximum of 2 months. 
To defrost, allow the product to thaw in the refrigerator.

Cooking + Reheating
Cut sausage links before cooking. 
Cook sausages quickly over a medium heat. 
Turn sausages regularly to ensure they are cooked evenly and do not burn. 
Our chicken and chive sausages have been steam cooked but do need grilling. We recommend a quick grill in a frying pan or on the BBQ. We recommend making slits in the sausages to open them up and crisp up the casing.