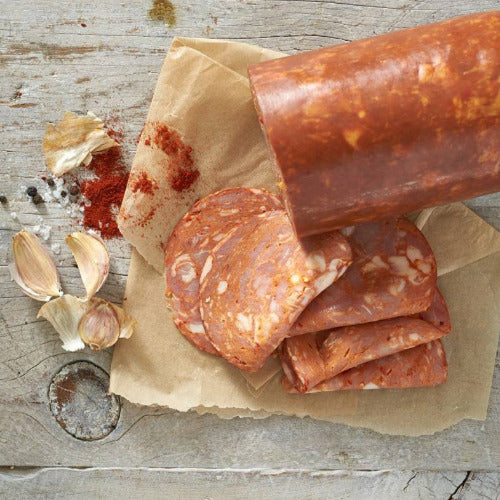 Product Description
Portuguese-style salami made using coarsely minced pork meat, spiced with our unique blend of Portuguese inspired spices. Filled into a casing and smoked using natural wood chips, not dried or cured. It's the perfect addition to any dish including a panini, pasta or pizza. This product is ready to eat and can be enjoyed as is or lightly reheated. This product is made using Australia's best quality ingredients.
200g Sliced = $27.50/kg   |   1kg Bulk = $20.00/kg
Ingredients
Australian pork (95%), red & white cooking wine, salt, paprika, garlic, acidity regulators (262, 330, 331), mineral salts (450, 451, 452), canola oil, sugar, spices, flavour enhancers (621, 635), chicken booster (rice flour, yeast extract, dehydrated vegetable, herbs & spices), preservative (250), fermented red rice, antioxidant (316), fibrous casing.
Product Storage + Care Instructions
Keep refrigerated <4°C. Once seal is broken, remove product from plastic and keep wrapped in paper towel. Change paper towel every 3 days. Must be consumed within 3 days.

Freeze product as soon as possible after purchase. Must be frozen before used by date as shown on package. Can be frozen for a maximum of 2 months. To defrost, allow product to thaw in the refrigerator.

Product Weight
All our products are handmade and despite trying to maintain consistency, product weights may vary. If your total order is less than the average weight, we will compensate.