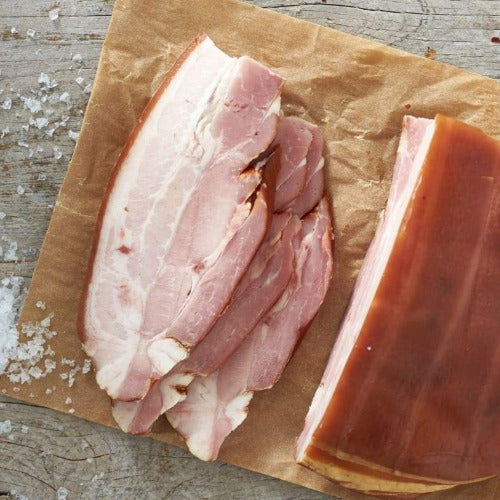 Product Description
Our maple-infused speck pieces are marinated and flavoured with aromatic spices, then double-smoked giving a slightly sweet flavour. It's the perfect addition to any dish including soup, breakfast, pasta, or salads. This product is fully cooked however, should still be lightly fried or re-heated. This product is handmade using Australia's best quality ingredients.  
Ingredients: Australian pork belly (98%), salt, water, mineral salts (450, 451, 452), dextrose, antioxidant (316), preservative (250), canola oil, sugar, flavour (maple), color (150c). 
Storage: Keep refrigerated <4°C. Once the seal is broken, remove the product from plastic and keep wrapped in a paper towel. Must be consumed within 3 days.
Freezing: Not suitable for home freezing. 
Aprox 300g piece = $26/kg
All our products are handmade and despite trying to maintain consistency, product weights may vary. If your total order is less than the average weight, we will compensate.