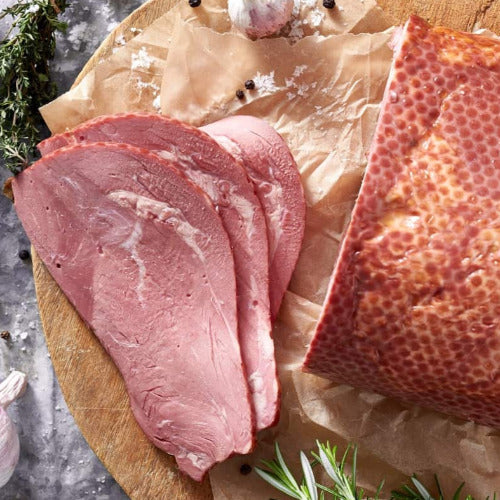 Product Description
Made using lightly spiced beef topside, hand-pressed into a mould and smoked. Beef rashers are made to be used as bacon, offering a non-pork alternative. It's the perfect addition to any dish including pasta or in a burger. This product is fully cooked however, should still be lightly fried or re-heated. This is a handmade product using Australia's best quality ingredients.
500g Sliced = $34.65/kg  |  1kg Bulk = $30/kg
Ingredients
Beef Topside (97.3%), water, mineral salts (450, 451, 452), dextrose, antioxidant (316), preservative (250), canola oil, sugar, flavour (maple), carrageenan.
Product Storage + Care Instructions
Keep refrigerated <4°C. Once the seal is broken, remove the product from plastic and keep wrapped in a paper towel. Change paper towel every 3 days. Must be consumed within 10 days.
If the product is sliced or diced, keep the product in a clean, dry container lined with a paper towel. Must be consumed within 3 days.

Not suitable for home freezing.

Product Weight
All our products are handmade and despite trying to maintain consistency, product weights may vary. If your total order is less than the average weight, we will compensate.